Owelle Rochas Anayo Okorocha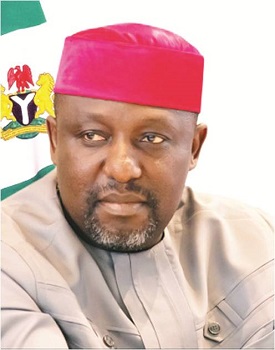 Website: www.imostate.gov.ng
Office Dates: May 2011
Address: Government House, Owerri.
Birth Date: 22nd September 1962
Birth State: Imo State
Political Party: All Progressive Congress (APC)
Spouse: Nneoma Nkechi Okorocha
State: Imo State
Owelle Rochas Anayo Okorocha (OON) was born on September 22, 1962 in Ogboko, Ideato South Local Government Area of Imo State.
He had his secondary education at Juladaco High School, Jos, between the years 1976 and 1981. After his secondary education, Rochas Okorocha acquired a Diploma in Public Administration in the University of Jos in 1991. He later returned to the University of Jos (1993-1994) to obtain an advanced diploma in Public Administration.
Over the years, this successful businessman has held top positions in various companies and organizations including President, Nigeria Red Cross Society, President, Rochas Foundation Inc; President, Rochas Group of Companies Limited; Pro Chancellor, African Business School and Former Chairman, Board of Nigeria Airspace Management Agency. He was also a Commissioner on the Federal Character Commission and a member of the National Constitutional Conference.
When democracy was restored in 1999, Rochas Okorocha competed in the primaries to be People's Democratic Party (PDP) candidate for governor of Imo State, but lost to Achike Udenwa. He moved to the All Nigeria People's Party (ANPP), and was an unsuccessful candidate for President on the ANPP platform in 2003. He returned to the PDP, and President Olusegun Obasanjo appointed him as Special Adviser on Inter-Party affairs.
He then joined All Progressive Grand Alliance (APGA) to run as APGA candidate for Imo State Governor in the April 2011 elections. The Independent National Electoral Commission (INEC) to begin with declared that the Imo Gubernatorial polls held on 26 April 2011 were inconclusive and thereby ordered reruns in 4 local government areas on 6 May, 2011. In the said rerun, Rochas Okorocha emerged victorious and was sworn in as Executive Governor of Imo State.
Rochas Okorocha, in 2013 decamped to the All Progressive Congress (APC) and has since been elected as the chairman of the Progressive Governors' Forum. He contested for a second term under APC in the April 11, 2015 Gubernatorial Elections which he won, and was sworn in on May 29, 2015.