The Nigeria Governors' Forum, Chatham House, the Federal Ministry of Health, and UHC hosted the first Universal Health Coverage Summit in Abuja.
During the advent of COVID-19, nations around the world had to take a good look at the health systems provided in their communities. Nigeria was no different as it continues to assess its healthcare.
Now, as Nigeria gets ready to approach an election season in the coming years, the big question is how our political leaders will ensure that health is a priority?
That was the center of the discussion for the first Universal Health Coverage Summit in Nigeria. The theme was putting health and health security on the political front burner.
There were high dignitaries in attendance such as His Excellency, Senator Dr. Bukola Saraki, the Senate President, 8th Assembly of the Federal Republic of Nigeria, Rob Yates, the Director of the Global Health Programme, Executive Director, Centre for Universal Health Coverage, UK, Professor Alike Ahmed, the Associate Fellow for the Global Health Programme, Chatham House, UK, Dr. Ahmad Abdulwahab, the Senior Health Adviser at NGF and many others.
Chief Mrs. Moji Makanjuola, the Chair of the UHC 2023 Forum said the election period creates a policy window to create a course of action that will address health issues in Nigeria.
She stated that this invitation has been sent to all political parties. "Through this Nigerian-led initiative, we seek to do things differently and create the right health agenda," she said.
Mrs. Makanjuola also added that she believes that we must start looking at people from the grassroots because that leads to the success story.
"For me, starting from the bottom up is important and we should also use our local languages to communicate," she said.
Senator Dr. Bukola Saraki said Universal Health Coverage is a topic that is close to his heart. He wants the Governors to come together and drive the process. "The tools are there, what is needed is the process," he said.
He also added that he believes there is funding for health care. "The money is there but there is a lack of political will to address the process. We need to speak to the political leaders and ask them what they are doing for health?" he said.
Dr. Ahmad Abdulwahab represented the Director-General of the NGF, Mr. Asishana B. Okauru. He said the Director-General sends his congratulations. This is an occasion for us to be proud of. As far as the role of the NGF in tackling health, Dr. Ahmad stated at his panel discussion that at NGF, when it comes to the equity fund, we have many different models.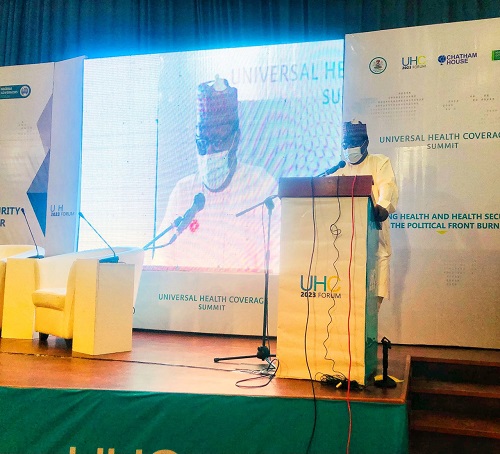 "We continue to ensure advocacy and we have a tracker. We also put pressure on the Governors."He added that we also need to question the interventions that are being done.
"What are the high impact interventions? It's not simply about building hospitals but it is also about articulating the right process and educating others about the process," he said.
Dr. Ahmad furthermore stated that this summit should be different. It shouldn't just be a one-off event. There is a need to engage with the political class. That is when the importance of this group would be highlighted.
"This is just starting the process. What would be important is what comes after," he said.
At the summit was a representative of the World Bank, the Senior Health Specialist: Dr. Olumide Okunola. He stated that health coverage is of importance to the World Bank.
"We know that globally, millions fall into poverty and there is the importance of measurement to understand what progress is being made." He added that there is a Global Monitoring Report. The global report will measure the dimensions of the UHC to assess our performance. The next step would be to have a clear pathway that we can all agree on in Nigeria.
During the summit, there were presentations made by Rob Yates and Professor Aliko Ahmed.
Mr. Yates said the aim of the summit is to discuss the political reforms of Universal Health Coverage and how to specialize in a political economy of health reforms.
"There is a correlation between the impact of democracy and citizens' health outcomes," he said. In his presentation, he highlighted the indicators for Democracy which include freedom of expression, freedom of association, suffrage, free and fair elections.
Whereas the indicators for the health outcomes are infant and child mortality and maternal mortality. Mr. Yates further elaborated on his thoughts on elections and the health of the citizens.
He said elections and the health of the citizens are inseparable. Some points highlighted are that:
• Good democracies are more likely to catalyze improvements in citizens health outcomes
• Free and fair elections provide greater incentives for participation and improve government's accountability and transparency
• Good democracies are correlated with increases in public health spending but not with GDP/Capital
Going forward, the collaborations for Universal Health Coverage in Nigeria will include:
• Specialist technical assistance and advice on issues relating to the political economy of UHC in Nigeria
• Generate political commitment for UHC emphasizing the health, economic, societal, and political benefits
• Share experiences with successful UHC models
• Public events, forums, summits, and media engagements
• Private roundtables and briefings including advice and political strategy
Professor Aliko Ahmed joined Mr. Yates in the presentation. He added that democratic institutions can influence health priorities. He said it is time that African leaders emphasize vaccine inequity. "The key question is how is democracy connected to health outcome?"
Professor Ahmed concluded that elections and health are tied together. That a good democratic experience is needed and more likely to live longer.
At the summit, there was also a panel discussion elaborating on how states are making health a priority.
Dr. Ben Nkechika, the Director-General of Delta State Contributory Health Commission represented the Governor of Delta State, Governor Dr. Ifeanyi Okowa.
He said Delta State has been successful in enrolling many in their universal health coverage. He attested this to a strategic plan in their state.
Dr. Nkechika added that you must be deliberate with actions to get the desired actions.
"We need to stop looking at health insurance from a country perspective to a national perspective," he said. As far as the next steps of the summit, the Executive Director of LISDEL, Mrs. Juliana Abude-Aribo said the next step would be putting together everything heard today into a roadmap for UHC to track.
There would be a follow-up with every stakeholder. They would engage the community structures and traditional leaders to provide some direction in this.
They would develop an engagement strategy to ensure that no one is left behind and to have a sustainable structure going forward.