The Nigeria Governors Wives Forum reconvened for their 2nd annual conference against gender-based violence. The discussion occurred around the global 16 days of activism against gender-based violence with the theme of Orange the World: End Violence Against Women Now.
Somewhere in our country, a little girl is going to be assaulted and usually by someone she trusts. A group of girls will be abducted and violated. A husband is going to beat his wife almost to death because she displeased him. There are some parents who are making the decision to marry their 15-year-old daughter so they can afford to educate their son.
"When I think of these things, I get energized. I commit myself to get up and showing up," said Her Excellency, Erelu Bisi Fayemi, the 1st Lady of Ekiti State and the Chair of Nigeria Governors' Wives Forum (NGWF).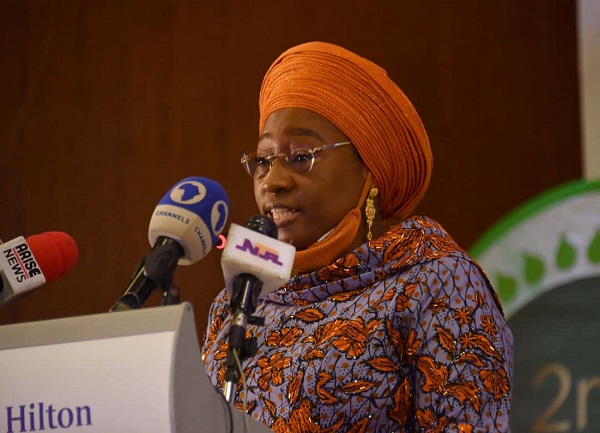 On Thursday, November 2nd at Congress Hall, the Governors Wives Against Gender-Based Violence reconvened for their 2nd annual conference against gender-based violence.
The discussion occurred around the global 16 days of activism against gender-based violence with the theme of Orange the World: End Violence Against Women Now.
The First Ladies discussed their efforts in supporting SGBV Programs and what more they need to accomplish. Mrs. Fayemi stated that when they started, it was as a small group of governors' wives. It has now become a flagship program with all state first ladies involved.
She stated that the process of coming together to work on SGBV has provided them with an opportunity to work together collaboratively to maximize their impact.
During the short span of time that the NGWF was created, the Governors wives have recorded a significant amount of success towards their efforts to eradicate GBV.
In June 2020, only 14 states had domesticated the Violence Against Persons Prohibition Act (VAPP) Act. As of Nov 2021, 30 states in Nigeria have domesticated the Act, the FCT will make it 31. Some other accomplishments of the Governors' Wives are recorded below.
• The Governors wives have provided leadership for state coordinating mechanisms whereby there would be an implementation of the VAPP Act.
• They have collaborated with women's rights organizations.
• They have engaged capacity-building webinars for their members and produced resource manuals to support resource ladies to build capacity for their team.
In addition, in March, they came together and established a GBV survivor's fund. This survivor's fund enables the Governors wives to provide support to survivors in their different states.
Present at the conference was the Director-General of the NGF, Mr. Asishana B. Okauru who said that the NGF has sustained its engagement with the Nigeria Governors Wives Forum and endeavored to align on priorities.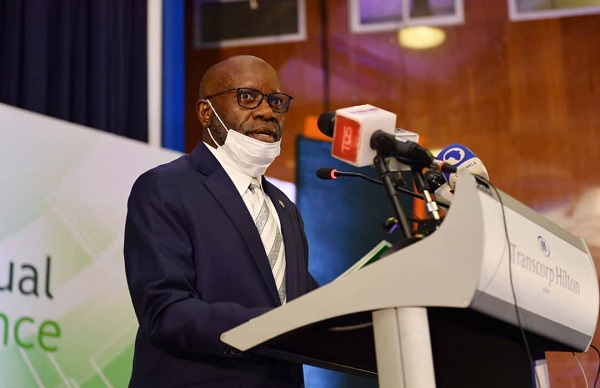 He said it is no longer news that the Nigerian Governors Wives Forum was instrumental to the Nigerian Governors declaring a state of emergency against sexual and gender-based violence on June 10, 2020.
Mr. Okauru acknowledged the efforts of the Governors Wives in the increasing number of states that have passed the Child Rights Act and Violence Against Persons Prohibition law (VAPP).
Plus, he commended the fact that there has been an increasing number of sexual assault referral centers in the country as well as shelters for women and children.
"Thank you for the provision of economic empowerment opportunities to women in various communities and your advocacy for girl-child education," said Mr. Okauru.
The Director-General also emphasized that NGF is making new developments towards GBV efforts. The NGF is working with the First Ladies to develop a state of emergency tracker, a tool that will be used to track and manage all accomplishments made by both the Nigeria Governors' Forum and the Forum by the first ladies.
The Director-General of NGF reiterated that the NGF will continue to support the activities of the wives forum as they stay focused on the theme around gender-based violence.
During the panel discussion, the First Ladies discussed the efforts made towards GBV in their respective states. The First Lady of Osun State, Mrs. Kafayat Oyetola said that if there is a case of rape in her state, they have set up a committee. The committee is made up of traditional leaders and law enforcement agencies.
"We also have a court line which anyone can access, and we take victims to the hospital," she said. The First Lady of Kaduna State, Mrs. Hadiza Isma El-Rufai lamented that unfortunately there is a lot of war and conflict going on in her state.
She added that it's mostly the women and children that suffer because of this. "In Kaduna State, we try to be proactive. We have passed the VAPP law, and we have four Sexual, Assault, and Referral Centres," she said.
As part of the panel discussion, Ms. Bukky Shonibare was present, she is the Executive Director for INVICTUS. Ms. Shonibare said that sensitization matters, and she is happy to see the videos produced by the first ladies.
However, she added that it's important that the videos be produced in the local languages too. "We can't assume that gender-based violence is understood by everyone," she said.
She also mentioned that women who have disabilities are not neglected. That effort should be made to cater to their needs too.
The conference included exhibitions by the various ladies highlighting the efforts made in their state.
At her exhibition, the First Lady of Ebonyi State: Mrs. Rachel Umahi said they educate people on female genital mutilation. She believes in the education around how female genital mutilation damages the health of women and girls. "We fight against it knowing that it can affect a girl-child. It can cause infection and prevent a woman from having kids," she said.
The First Lady of Delta State, Mrs. Dame Edith Okowa said a lot is being done in Delta State. Mrs.Okowa noticed that one thing that is not done enough is having shelters. That is why they have accommodations to take care of victims. In addition, she said they make sure that predators do not go scot-free. Mrs. Okowa stated that she believes that one day, the issue of GBV will come to an end.
The second annual conference with the governors' wives was truly an eventful day. The Governors established a GBV action plan, and they are working hard in their different states to implement the plan to ensure they make a difference.