Barrister Chijioke Chuku serves as the Senior Legal Expert at Nigeria Governors' Forum Secretariat, (NGF), a post which he has occupied for almost two decades. He was amongst the earliest team that built the NGF, and the legal sector has expanded under his watch. Recently, Barrister Chuku was awarded the title of Abia's Legal Personality of the Year by the Abia Online Media Publishers.
He was given this award to commemorate his achievements in the legal field as well as his philanthropic gestures through his Ogwuanyim Foundation to support his community and beyond.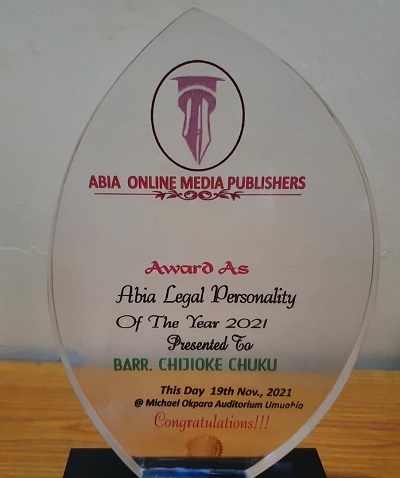 To discuss his achievements, philanthropic efforts, and his role as the Head of Legal at NGF, Bar. Chuku sat down with the media at NGF to provide insight on his success, philanthropic efforts, and what more he envisions for his career.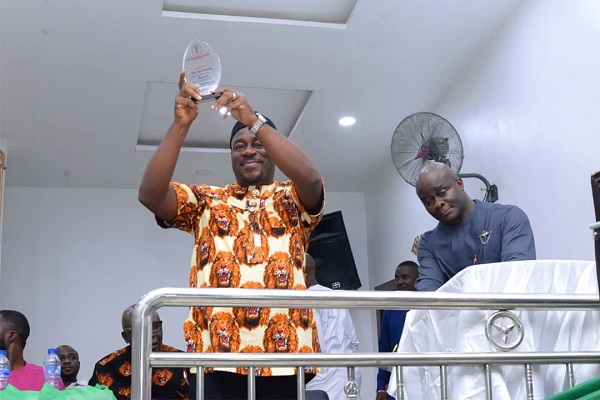 The interview is below.
What was your reaction to having been nominated as Abia Legal Personality of the year?
My initial reaction was one of surprise. It was unexpected and like I am wont to, I almost ignored it. Then the floodgate of calls, congratulatory messages, and best wishes poured in, including several from well-placed personalities within the Abia State Government. And I then thought to myself that perhaps this wasn't the usual run-of-the-mill awards that we have come to know in the country. I enquired into the pedigree of the award Presenters and liked what I found. I became at once grateful and humbled. As far as I knew, my life work was yet to come, was still unfolding. How was I to know that people appreciated the little we had done, especially people from my own State, my own kith and kin.

How was the award ceremony and your thoughts about the occasion?
I would like to think that the Ceremony was simple but impressive. With the caliber of award winners on that day, one did not expect any less. My thoughts on that day did not change much from what I had already stated above. I was grateful to God for this recognition. I also resolved to continue to do my best in the service of mankind.
Part of the reason you were nominated pertains to your philanthropic efforts with Ogwuanyim Foundation. What led you to start the foundation, what would you envision your foundation achieving in the lives of Nigerians?
Ogwuanyim Foundation is largely inspired by my late dad, Dr. Eliezer Chuku O. Chuku, in whose honor and memory we established the Foundation. Ogwuanyim was his traditional title, and it literally means one who swims in an ocean or great waters. Metaphorically, Ogwuanyim means one who attains a height or achieves a feat despite the odds. It is a title that summarises my father's life and the ideals for which he lived. That title is also a name by which my little Community in Ozuitem, Bende Local Government Area of Abia State is known.
When we (my siblings and I) thought of the best way to immortalize our late dad, especially in the area of education which was his forte, we settled for a Foundation that bore his name. We provide succor to the less privileged in the areas of Education, Health, Medicine, Law, and Agriculture. In the realization that all work and no play makes Jack dull, we also create recreation through sports and have instituted an annual football tournament to create some fun during the Yuletide.
At the moment, Ogwuanyim's activities are limited to Abia State and particularly to Bende Local Government Area, where I come from. We hope that in the future and as things evolve through the special grace of God, we would extend our activities beyond our current locality. If at the end of the day, we are able to put a smile on the faces of the people who pass our way, we would have achieved in no small way some of the things that our father was known for. For me and for my siblings, that would mean a lot.
You've been called a legal luminary. What have been the highlights in your legal career, particularly in your role at the Nigeria Governors' Forum?
Frankly, I don't focus on titles, tags, and appellations. For me, the crux of that award was the recognition of whatever humble strides that struck them as worthwhile, and which formed the basis for their determination that we had earned that award.
In terms of the highlights of my career, I have spent the bulk of my adult life and career in the public service. Before joining the NGF, I had worked with highly placed public officials and that initial experience and exposure set the tone for what was to become a passion – service to mankind.
For almost two decades, I have been at the NGF where alongside colleagues and partners, we have all worked hard at building the Organisation that so many now reckon with. I was part of the earliest team that started this Organisation and I find it gratifying that the efforts have not been in vain.
Specifically, the Legal Unit has grown steadily on my watch. and we are an integral part of the custodianship of NGF's advancement over time. It has not been possible to keep the NGF entirely away from trouble.
You know it's almost herculean to not be in the eye of the storm when you are an amalgam of power, being the umbrella body of all the 36 Governors in the country. Our greatest achievement as a Unit has been in ensuring that even though trouble may rear its head, we use our best endeavor in ensuring that the troubles are not enough to pull the Forum down.
In league with some of the best minds that this country has, we have been able to weather the storm and have remained afloat and strong as an Organisation.
What are your thoughts on the legal profession, what led you to the practice of law/ what more do you envision doing/what advice would you provide for those seeking a career in law?
The Legal profession is one of the noblest professions in the world. For centuries, it has been this way. I am proud to count myself as one of the members of this profession. For as long as I can remember, I had always wanted to be a lawyer, so much so that I fought my dad whose plan for me was to become a doctor. I resisted that and fought until he gave in.
Initially, I wasn't sure why I felt the pull towards law but as I grew, I realized that I was born to serve man, and the way I thought I could achieve this the most was by being a lawyer. We all have different aspirations and have our ideas and thoughts as to how to achieve these aspirations. I realized early in the day that my path to self-actualization was via the legal profession.
The truth also is that certain bad eggs amongst this noblest of callings have continued to give a bad name to the profession and we all look forward to the day that the Nigerian Bar would rise above mundane considerations and fight to attain the height that is the natural preserve of our profession.
My advice to intending lawyers and young lawyers alike is to be patient. Success is not achieved in a day. With hard work, focus and determination, success surely awaits. Thank you for this opportunity to share my thoughts on your platform.