Dr. Olusegun Mimiko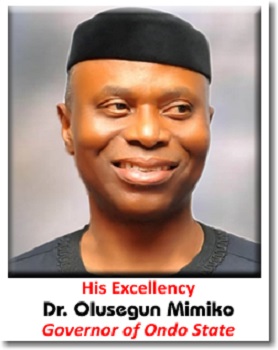 Website: www.ondostate.gov.ng
Office Dates: 24th February, 2009
Address: Government House, Akure
Birth Date: 3rd October, 1954
Birth State: Ondo State
Political Party: People's Democratic Party (PDP)
Spouse: Mrs Olukemi Mimiko
State: Ondo State
Dr. Olusegun Mimiko was born on 3rd October, 1954 in Ondo town, Ondo state. He had his primary education in Ondo town as well. Following this, he was admitted into St. Joseph's College, Ondo, in 1966 and graduated with his West African School Certificate in 1970. He went on to have his Higher School Certificate at Gboluji Grammar School, Ile-Oluji before gaining admission into Obafemi Awolowo University (then University of Ife) in 1972 to study medicine. He graduated in 1980, after which he registered with the Nigerian Medical and Dental Council as a Medical Practitioner.
Dr. Mimiko, for several years practised his profession in several establishments in his home state as well as in Rivers State, more specifically with the Nigeria Naval College (NNS Onura) in Onne, Port Harcourt between 1981 and 1982 before he went back home to join Ondo State Health Management Board. He finally became a full-time private medical practitioner when he set up MONA MEDICLINIC in Ondo Town.
Beyond his professional and business callings, Dr. Olusegun Mimiko has had an abiding interest in politics. This dates back to his university days at Ile-Ife where he held many offices in the students' union. By 1983, he was also already in politics and served as the Publicity Secretary of the Ondo Local Government Chapter of the Chief Obafemi Awolowo-led Unity Party of Nigeria (UPN). In the Third Republic, he was elected twice as an ex-officio member of the Social Democratic Party (SPD) Executive Council in Ondo Local Government Area. As a result of his dynamism and years of experience in politics, he was appointed twice as Honourable Commissioner of Health in Ondo State during which he introduced many innovations into the State's health sector.
Determined to serve his state and country at a higher level, on November 7, 2002 Dr. Mimiko resigned his appointment as Ondo State Commissioner for Health, and on November 19, a fortnight later, he joined the gubernatorial race on the platform of the Alliance for Democracy (AD). He lost and joined the Peoples' Democratic Party (PDP). After PDP's election victory in 2003, he was appointed Secretary to the State Government.
He later joined the Labour Party (LP) under which platform he ran for Governor and lost to Olusegun Agagu in the April 2007 election. He contested this decision at the election tribunal and Agagu lost office on February 23, 2009 following an Appeal Court ruling which cited irregularities in the elections. In 2012, still under the platform of Labour Party, he ran for a re-election bid as governor and won, making him the first governor in Ondo state to be elected more than once. He however defected to the PDP on October 2, 2014.