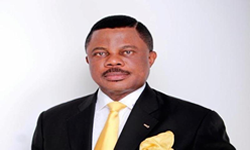 Anambra State Governor, Willie Obiano, has commended the people of the state for harkening to his administration's call for them to think home, by investing in the state.
The elated governor said his administration had wooed back the confidence of indigenes of the state, as most of them are now bringing home their investments and creating jobs for the unemployed youths.
Obiano, who spoke during the opening of an ultra modern centre, Stanel World, restated that the state was the safest state in Nigeria for investment calling on indigenes to think home while making their investments.
The centre consists of fuel station, eatery, world class spa, farmers market, French bakery, pharmacy store, vehicle maintenance centre, car wash, laundry service, event centre, VIP lounge and tyre centre among others,
Obiano had early this year, launched a think-home campaign tagged; Aku Luo Uno, "Indeed, the enterprise we have gathered here today to inaugurate is a clear demonstration of our people's well-known drive for excellence and our capacity to change our environment for the better.
"Ndi Anambra have proven this over and again in so many distant places that everyone is convinced that we have what it takes to change our story. But, the only people that we have left to convince are ourselves…we need to convince ourselves that the enterprising excellence we have demonstrated in other places can sink roots in our own home.